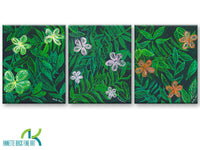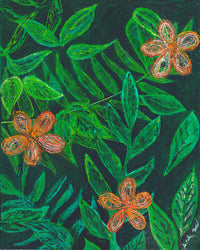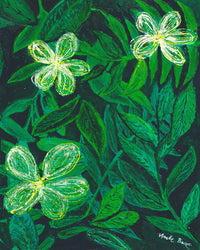 ABFA/CA-CH
In Bloom by Annette Back
Type: original oil painting on canvas
Size: 8 inches wide x 10 inches high (set of 3) on a gallery style canvas (3/4 inch thick). 
Original Oil Paintings, signed & dated by artist Annette Back. This is not a copy or a print. The sides are finished and canvas is stapled on the back. The painting will be packed professionally and shipped within two-four business day upon receipt of payment.
This series was painted in conjunction with the painting "Happy" that I created to benefit the PFLAG Organization, which provides resources to the LGBTQ+ community and their parents. The painting was inspired by Ellen Woods gorgeous flower photography. Leaves and pedals are interpreted in a graphic style testing out a new tool that I am totally obsessed with, the fine line applicator. It enables me to make extremely fine lines with liquidated paint. Incredibly fun to use. All the many layers of leaves as well as the petals were created that way. After doing the yellow one, I liked it so much, I decided to paint 2 more with different colors.