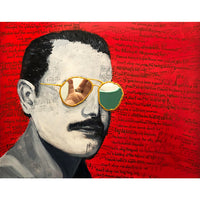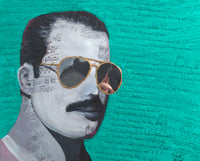 Annette Back Fine Art
Freddie Sees You
Type: Acrylic/mixed media Painting on canvas

Sunglasses/mixed media paintings of Freddie Mercury.
The lyrics and music sheet of "Don't Stop Me Now" are layered into the background. 
Please note, created and available immediatly:
14 x 11 in red
14 x 11 in pink
8 x 8 in orange
For custom orders please click here.
Please allow two to three weeks for your custom artwork to be painted.

If needed sooner, please contact info@annettebackfineart.com
This is an original painting (not a copy or print) and is signed & dated by the artist. The sides are stapled on the back. The painting will be carefully and professionally packed and shipped within two business day upon receipt of payment.