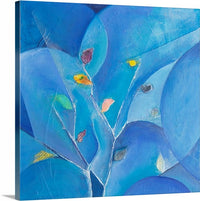 ABFA/CA-CH
Branches - Limited Edition/ Hand Embellished/ Gallery Wrap
Hand Embellished Gallery Wrap
"Branches" Hand Embellished Canvas Print.
Reproduction of original artwork by Annette Back.
8 x 8, set of 4

ready to hang

premium canvas

stretched on wooden frame .5" stretcher bars (gallery wrap) 
Limited Edition 1/25
signed & numbered
For the set of "Branches", I arranged branch lines in the exact same way on all 4 canvases as their first layer. Then I separated the set and developed each one independently in four different color combination, always using silver as the secondary and highlight color. To clarify, I mixed the chosen color with silver and white to variant degrees to achieve many different shades. I added shades, shapes, leaves, gradations intuitively. All four paintings started out the same but each took on its own mood, constellation and composition. Together they look stunning.